Patios allow us to enjoy the outdoors at home much more. There is nothing better to spend a Saturday afternoon on the patio having a barbeque with friends and family around. When patios get first installed, they are lovely, and we can enjoy them.
Over time dirt build up on the surface. In many cases, dirt can hide what is happening under, inside and on top of the slabs. This is what recently happened to one of our lovely clients.
We were called out to clean her driveway and patio. It was covered with soil build-up from several years of exposure to the elements though was still in very good order and the patio and driveway just needed a good clean. After the work was completed, we received a call and our client asked about markings on the patio slabs that she did not see before and wanted to understand why they are there. Our initial thoughts were that it may have been caused by the sealer though this was very unusual. We proceeded to remove the sealer, but the marks did not go. On closer inspection and further research, it emerged that the staining is what is called "Dot and Dab Staining" or "Reflective Staining" This is caused when the slabs are installed incorrectly on a few dots of mortar under the slab though in this case, the slabs appear to have been laid on one big dot of mortar. Here are some photos of what dot and dab staining can look like 
Photos from MileStone see their article here  The photo below from Paving Expert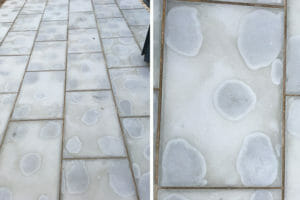 Here is another good article about Reflective staining from Paving Expert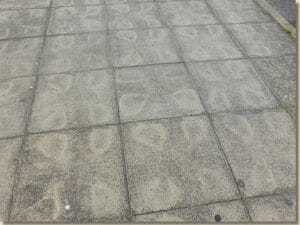 It takes time for the marks to appear on the slabs and over time the slabs get covered in dirt do it is not obvious in some cases until after the patio has been cleaned and it dries out. How can Dot and dab staining or Reflective staining be repaired or fixed? Sadly, nothing can be done to repair this. The structure of the slabs have now changed and the staining is permanent. Can I lift the slabs and lay re-lay them back on a full bed of mortar? Our research indicates that this will not work, and the staining will not go away. After reading may articles on this problem of dot and dab staining or Reflective staining on patios it seems in some rare case the staining may blend in with time though it can partly be put down to sol build upon the slabs and if the patio gets cleaned in the future the marks will show up again. Here are the photos of the patio we cleaned.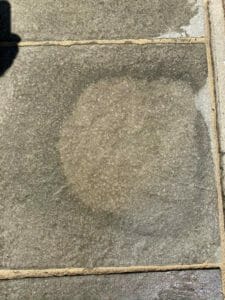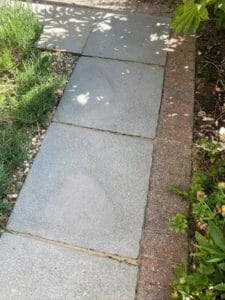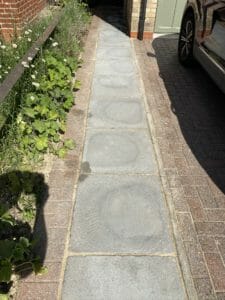 Notice the staining is in a central spot in the middle of the slab and this is likely due to the slab being laid on a central lump of mortar rather than 4 or 5 dots like some may do it.
Art of Clean is a specialist flooring and soft furnishing cleaning firm in Cambridge working for domestic or commercial clients throughout Cambridgeshire, Essex, Suffolk, and Hertfordshire.
For further advice or information on our carpet and soft furnishing care please don't hesitate to contact the Art of Clean team on 01223 863632 in Cambridge. Our services include Carpet Cleaning, Upholstery Cleaning, oriental and area Rug Cleaning, Curtain Cleaning, Patio and Driveway Pressure washing, Leather Cleaning, Stone and Tile Floor Cleaning and Wood Floor Sanding and Restoration. We also supply new flooring and carpets through our sister company Art of Flooring. Our Dry Cleaning service is provided by Farthings Cambridge