No matter which service you choose, you'll get the same 100% satisfaction money-back guarantee.

Deep Cleaning Removes Dirt, Germs & Mites

Eco-Friendly, Safe Cleaning Products

Fast, Effective & Personalised Service
Art of Clean offers a wide range of cleaning services from carpet, flooring and upholstery cleaning and restoration services including:
All of our services are Backed by our 100% money back service guarantee.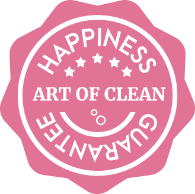 Your First Choice For Outstanding Flooring & Soft Furnishing Care
Eliminating mites, germs and grime lurking in stubborn and deep dirt often means using harsh chemicals that won't make homes happy! We don't use any nasties.
And we're not done until your floors and upholstery are looking and smelling good as new. An Art of Clean home, is a happy home with our cleaning services

Art of Clean is rated 4.7 / 5.0 based on 80+ reviews