Here at Art of Clean, we all have a great passion for what we do.
To us, there is so much more to cleaning floors and furnishings.
We believe in helping everyone we interact with every day.
Without our surrounding communities, we are nobodies and so, giving back to the community we have around us means a lot to the team.
When taking on the floor sanding project to restore the floor for
St. George Church, we knew it was going to be a big job.
We rallied around to help the Church in every way we could.
The floor had seen better days and needed some extreme tender, loving care.
So that is precisely what the team at Art of Clean and Ultimate Floorcare joined forces to do.
Together, we transformed the floor from worn, tired, and even broken places to a beautiful floor that they could once again start using for the community.
We fixed the missing and broken blocks, and then Ultimate floorcare did their magic with the help of one of our favourite products, Pallmann's Magic Oil.
Just look at how amazing their floor looks now: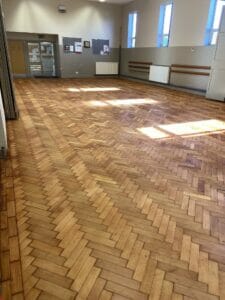 To watch our fabulous teams working tirelessly on a video, and a testimonial from a staff member at St.Georges church click: