Has your sofa seen better days? Are you wondering whether it's worth cleaning or just leaving it? 
This article will explain:
The different steps to our professional clean.

The reasons why you should have it maintained.

A short video showing how we clean. (If you don't want to read, see here first)

Some pictures of a recent clean we have done.
Now we must remember all cleaning companies will have their way of cleaning upholstery.
At Art of Clean, we provide a personalized quote for each customer; everyone's needs are different! 
1. The different steps to our professional clean.
Step 1: High-Filtration vacuum
First, we would hoover your carpet with a high filtration vacuum specially designed for a high performance clean. We feel this is important to make sure any dry soiling is removed.
Step 2: Pre-Spot difficult stains.
We spot clean all noticeable stains. Especially ones we know would be difficult to remove if a specialist wasn't doing it. 
Step 3: Pre-spray and Agitation.
We spray a specially designed spray to electro-mechanically lift oily dirt and pollution from the fabric. We gently massage the cleaning solution into the fibres.
The hot water extraction machine we use cleans exceptionally well as it heats the cleaning solution and pushes it into the fabric. 
This helps move any dirt, bacteria, and pollen left on the fabric.
The dirty water and polluted air are taken outside to our cleaning unit. We like to try and make sure the quality of your indoor air is good.
Our machine will make sure all residue is rinsed off thoroughly. We do this to make sure it is protected from re-soiling straight away.
We highly recommend this to prolong the length of time of your cleaning. It will aid you in cleaning up spills yourself in between professional cleans. 
Upholstery protector will wear off, so re-applying every 12-18 months.
We usually groom to make sure the fibres are tangle-free. Unfortunately, we can't always do this depending on the type of fabric, but that's why we tailor your quote to your needs. 
We understand you want to use your sofa as soon as possible, so we use a special dryer for quick drying. 
There is no science or rule behind this. If you don't want to buy a new sofa every time it looks terrible, maintaining this is the way to go. 
Maintaining will prolong the life of your furniture by years. (With the way the economy is, I think its time to start doing mine) 
3. A short video showing how we clean.
Check out our clean
4. Some pictures of a recent clean we have done.
I couldn't resist. Don't you just love seeing the difference?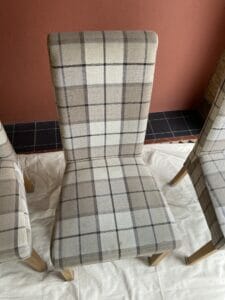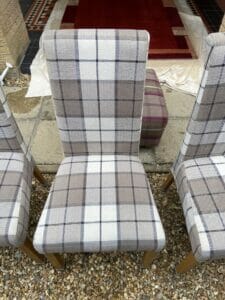 So that is the way we do upholstery. I think my next one will tell you how to get your curtains cleaned.
For further advice or information on our Carpet and Soft Furnishing care, please don't hesitate to contact the Art of Clean team on 01223 901549 in Cambridge. Our services include Carpet Cleaning, Upholstery Cleaning, oriental and area Rug Cleaning, Curtain Cleaning, Patio and Driveway Pressure washing, Leather Cleaning, Stone and Tile Floor Cleaning and Wood Floor Sanding and Restoration. We also supply new flooring and carpets through our sister company Art of Flooring. Our Dry Cleaning service is provided by Farthings Cambridge.
Another fun article to have a look at if you want to learn more:
To learn more on the guide to on How To Care For Your Carpet & Upholstery: