Which question does client ask most regarding carpet cleaning? "How long will my carpet take to dry?"
There is no hard and fast answer to that question, and lots of factors can have an influence.
We use hot water extraction to clean the carpet, this is a system which is mounted on our vans and runs on LPG gas. It is the most efficient way to achieve a deep clean, but as the name suggests it does use water. This means depending on how dirty your carpets are we may use a little more water to get it as clean as we possibly can, which will also mean the carpet will take a little longer to dry.
For those of you that have your carpet cleaned regularly you may find that the carpet dries much quicker, and that is down to having less grime to remove and using less water.
Be aware that there are cleaners out there that will claim the carpet will be dry in 30 minutes to an hour. In those cases, a foam (low moisture) and pad system cleaner (rotating cotton bonnet) is used and is just a surface cleaner, it does not provide a deep clean right down to the base of the fibres. This method will dry a lot quicker but will not be as effective as a deep clean using a hot water extraction method.
Once the carpet is clean, we put down powerful air movers (fans) which will start the drying process. They will get the air circulating, and we also advise to open a window or two. If the weather is cold, even just a small amount will help. By allowing the air to circulate the moist air is replaced with fresh air. If all the windows and doors are closed without ventilation, then there is nowhere for that moisture in the atmosphere to escape and the carpet will be damp for longer.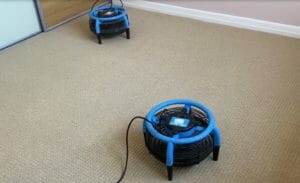 Our machines are very efficient, and we aim to extract as much of the water as we can. But the carpet will still be slightly damp, with sufficient ventilation, air circulation and warmer temperatures the drying time could be much shorter. Humidity may also play a factor in the speed of drying, the air needs to be drier than the carpet, in humid conditions the air will not absorb as much moisture so again the carpet may take a little longer to dry. The average drying time for most types of carpet would be 6-8 hours taking into account all of the factors mentioned but could be more or less in extreme conditions.
In cases where we clean multiple rooms, many of the rooms we clean first will be dried by the time we leave. It is only when we clean simple room and have little time for our dryers to do their work. This single carpet will take longer to dry.
Finally, we ensure all technicians are fully trained to use the machines in the most effective way.
An untrained or inexperienced technician can have a big impact on drying times. If too much water is used to clean the carpet and not enough water is extracted, it can leave the carpet wet. A faulty machine can also have a big impact, so our machines are regularly checked and serviced so we know they are working as they should, and that our technicians have the confidence to clean those carpets as they were trained to.
What you can do to help speed up the drying times?
• Open the windows or provide ventilation to allow airflow once your carpet is clean
• Have your carpets cleaned regularly (our Maintenance Plan is a great option) to avoid them becoming too dirty and needing more water to remove soiling.
• Use a recommended experienced company to carry out your cleaning
Written by Nicola, Art of Clean's Super Office Manager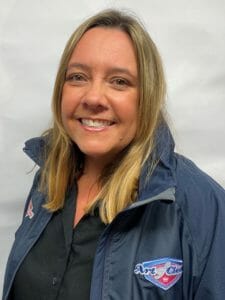 Art of Clean is a specialist flooring and soft furnishing cleaning firm in Cambridge working for domestic or commercial clients throughout Cambridgeshire, Essex, Suffolk, and Hertfordshire.
For further advice or information on our carpet and soft furnishing care please don't hesitate to contact the Art of Clean team on 01223 863632 in Cambridge. Our services include Carpet Cleaning, Upholstery Cleaning, fine Rug Cleaning, Curtain Cleaning, Patio and Driveway Pressure washing, Leather Cleaning, Stone and Tile Floor Cleaning and Wood Floor Sanding and Restoration.
We also supply new flooring and carpets through our sister company Art of Flooring. Our Dry Cleaning service is provided by Farthings Cambridge