We all know that the NCCA is about supporting its members in running a successful carpet and upholstery cleaning business and that they are not primarily about finding work for members.
However, with the new NCCA website, Trusted Local Cleaners, this is improving all the time and I would like to share a very unusual, probably once-in-a-lifetime, job I received through the NCCA.
The job initially came to me via Lewis in the office, as I was the closest member who might be suitably trained when I was given the contact details for a car restoration company not too far from me. On contacting them, the request turned out to be for cleaning the interior of an old Rolls Royce car.
As a senior member of the NCCA and an IICRC Master Textile Cleaner, I was very interested as to what might be involved so arranged a trip over to their premises to see if I could be of assistance. On arrival, it turned out to be a very famous Rolls Royce Phantom 1 called The Phantom of Love!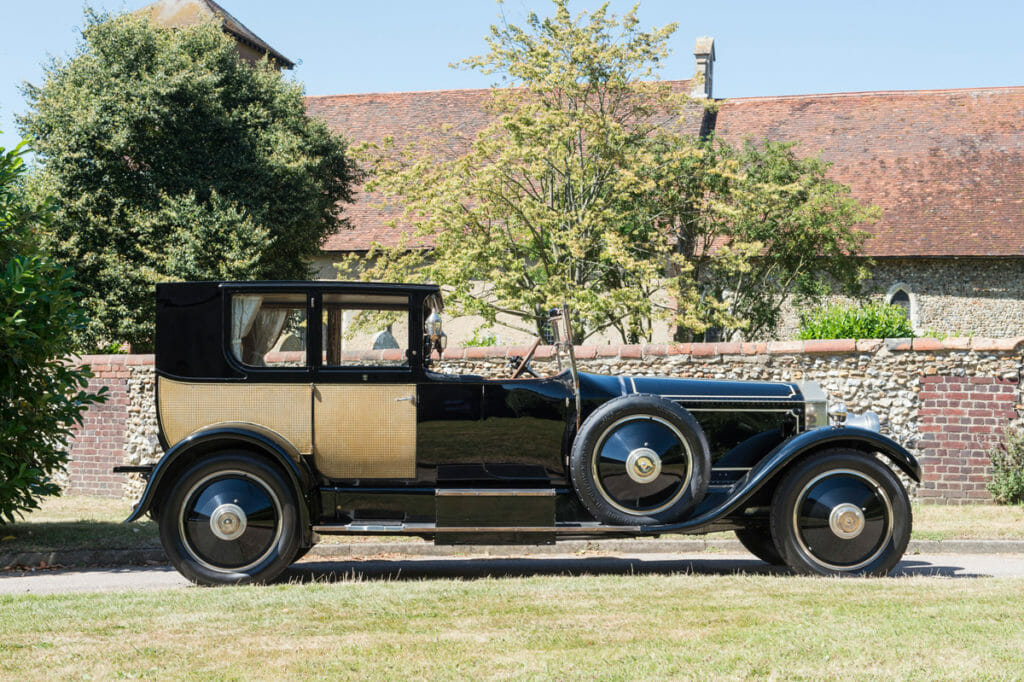 Built in 1926, it was sold in 2015 for over £500,000. As part of a major recommissioning and conservation programme, the new owner wanted to have all the interior upholstery fabrics, net curtains, and carpets cleaned. These were all original to the car and were to be preserved rather than renewed.
When I got to see the car, it was immediately apparent that this was not going to be an ordinary cleaning job. Most of the upholstery was fixed into the car and surrounded by wood inlay parquetry and gold leaf. The stuffers beneath the fabric could be anything but most likely to be horsehair. The carpets were only partially removable and covered in sooty soils, and the net curtains looked so delicate that cleaning them would be a real challenge. The car restoration company were understandably cautious about how the interior could be cleaned safely. Originality is highly important to the car's value and the car was due to be shipped to its owner when the cleaning was completed. If any damage were caused by cleaning it would be a total disaster.
The best person I could think of to compliment my skills as a highly qualified soft furnishing cleaner was Glyn Charnock from Chameleon Cleaning. He cleans historic carpets and works closely with conservators all over the country, so if he couldn't help, I didn't know who could!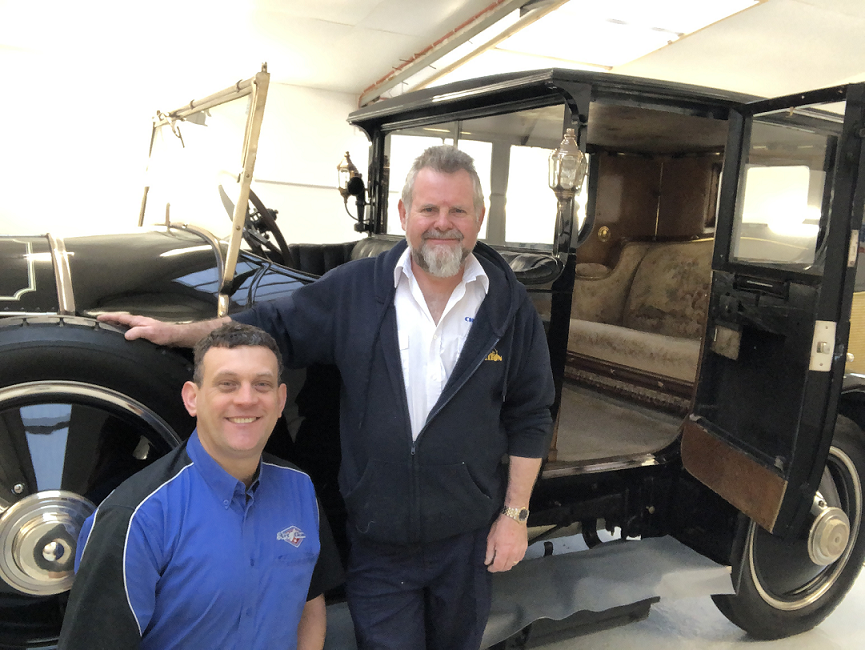 We arranged a visit to see the car together and Glyn explained his background to the restorers and discussed the methods he would use to clean all the different textiles. This was also to be accompanied by a full report into the cleaning products and processes used to be presented to the client on completion, to be kept as part of the restoration documentation and for reference should cleaning be required in the future.
We prepared a very comprehensive estimate including all the information discussed at the meeting, which we submitted. We heard nothing, for months. Glyn said he had just about decided we weren't going to get the job when we heard back. Yes, we had got the job, but now it was a real rush to get it done as the date for the car to be shipped was all arranged, and it had been moved down to Kent for the gold leaf to be reapplied, so we had to travel and stay in a hotel to get it done!
We both managed to find dates to suit, and in the end, spent 3 days cleaning the car; it's always better to allow extra time and charge less than the estimate than under-estimate and try to charge more!
As a highly experienced carpet and soft furnishing cleaner, I learnt some of the conservation cleaning methods used on very fragile textiles. What was of great interest was how to perform vacuum cleaning tests and draw up vacuuming schedules. Work like this is extremely painstaking. It can take up to an hour to vacuum clean a single small seat back!
The results were spectacular as you can see from some of the photos and the client was very happy, so thank you NCCA, for getting me a once-in-a-lifetime job. You never know where your NCCA membership can take you!
Pierre de Wet, Art of Clean, Cambridge, 01223863632
A few words from Jonathan Wood
"I would formally like to thank 'Art of Clean' for the superb and careful cleaning that The Phantom of Love received. Having had no previous experience of this type of specialist cleaning service, I was keen to find the 'right people' for this job, given the car's value and fragility of the items to be cleaned. Not only did Art of Clean quickly gain my confidence by taking time to explain their cleaning processes, and the expected results, they also demonstrated great professionalism and enthusiasm for their work. Upon completion of the cleaning, I was delighted with the results and, have since, received a detailed report which underlines the care taken when cleaning the car and benefit of the various processes. I look forward to working with Art of Clean again in the future and the owner of The Phantom of Love and myself, wish to extend our thanks for the excellent attention the car received. Kind regards." Jonathan
Jonathan Wood Vintage & Thoroughbred Restorations Limited
Clockhouse Workshop, Finchingfield Road. Little Sampford, Saffron Walden, Essex, CB10 2QN