You still remember that day … It was mid-spring when you first set eyes on each other. It was love at first sight. You had to have it. A lovely gig clay pot with the most beautiful house plant inside. There was a space just made for it. In the corner of the lounge where the sun comes streaming through your big windows. It just bought new life to the lounge. How beautiful. The nice wood floor in the room was so well complimented by the new plant. It looked like a paradise.
19 months later…
It is time for the lounge to get a fresh coat of paint and when you moved your beloved plant the shock and horror ran down your spine…
How can it be, … "Why did I not think?" you ask yourself. Yes, it is there and no wiping or cleaning helps, It is a big ugly watermark on your lovely solid wood floor in the lounge. A watermark on your wood floor from the pot plant.
How you wish you can turn back time.
This article is to save you from this moment and help you prevent this happening to you.
Here is a real issue to wooden floors – water. Wood is a porous material which will absorb water if it is left sitting on the floor long enough. Mopping up water that gets spilt on your wood floor is not such an issue as you get to it fast and it will dry quickly. The issue is when the water sits on your wood floor for a prolonged period and the worst place for this in most homes is under plant pots that are directly on wooden floors.
Here are 5 top tips to prevent this disaster from happening on your wood floor.
Always use a waterproof tray under your pots.
Carefully ensure that the tray under the pot is waterproof. Some trays are made of porous clay and though look sealed the water can seep through the clay over time. It would be best to use a good quality plastic tray or a glazed cay tray.
Use a plastic barrier.
If unsure you can cut a plastic sheet to fit under the tray to prevent water from seeping into the wood.
Move your plant
It is a good idea to move your plants every few weeks a little bit. This will not only show if there may be a leak it will also prevent sun damage. In some cases, the sunlight will lighten your floor and areas not exposed to light will remain darker. Moving the pots, a little will prevent this or at least greatly reduce this.
Consider a stand.
It can help a lot to use a stand for your pots to keep them totally off the floor. You may only need a very small stand to lift bigger pots a few centimetres off the floor so you can spot water spillages sooner.
Do not overwater your plants.
Too much water in your plants can increase the risk of leaks and spills. Water a little more often using less water at a time.
Once there is a mark what can you do.
How to remove watermarks from pot plants from a wood floor.
I found this advice on the internet and I thought to share some insights.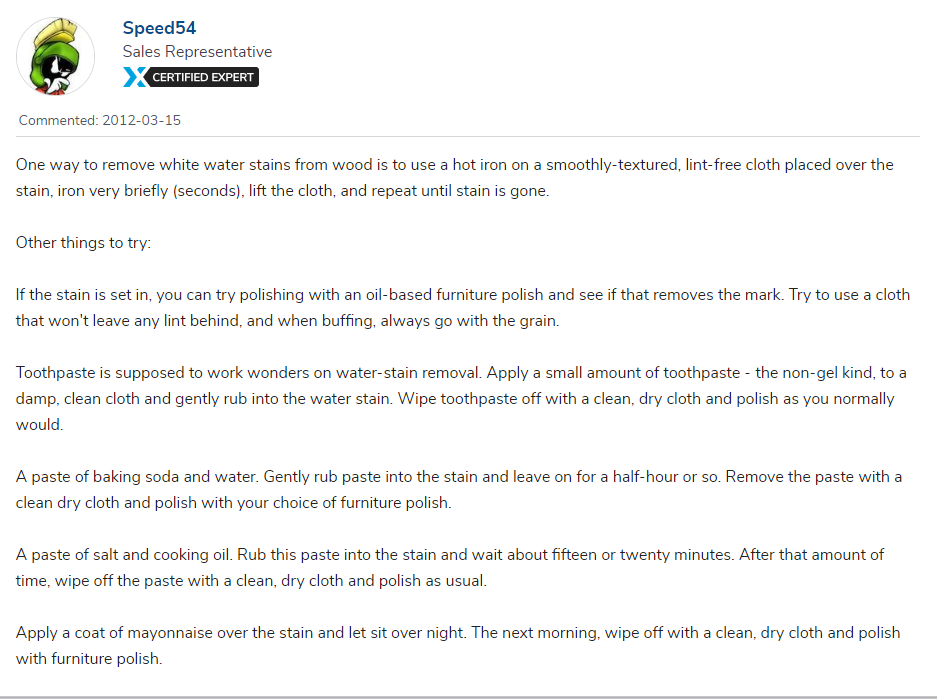 A hot iron may be a bit too aggressive – You would be better off using a hairdryer at medium heat. Dry it then take a break and repeat. You would aim to remove moisture that may be trapped below the protective layer on the floor. This usually shows up as a white mark. Sadly, black marks would be impossible to remove.
An oil-based furniture polish may help if your floor was oiled but if the floor is sealed using a lacquer coating any oil you apply may damage this layer. It is also very possible the oil penetrates below the protective layer and leave a dark patch you would not be able to remove.
Using toothpaste – Some kinds of toothpaste have bleaches and abrasive materials in them, and this can harm the floor and the finish on the floor.
Baking Soda and water paste – This paste contains water, and this means you introduce more water to the floor that may likely make the stain worse.
Sault and cooking oil paste or Mayonnaise – again a very oily substance and the oil may help somewhat if your floor was oiled before but is a lacquer coating was applied you can case a lot more damage to your floor.
Leave the area open to dry out. Allow 3 – 5 days and if the mark has not improved it will likely require you to get the floor sanded back fully to remove the mark. As above your best bet would be to try and force dry using a hairdryer at medium heat. Do not over-do it.
It depends if the floor was oiled or lacquered as this will determine if a local repair can be carried out or not. Contact a reliable well-trained wood floor sanding contractor for advice. In some cases where the boards are rotten, a repair can be carried out if you have spare boards though it may still be required to get the floor sanded.
For further maintenance contact us about our wood floor services us on 01223 863632 or visit www.artofclean.co.uk.