Having pets are a good idea, and they bring so much love and joy to a home; they do play a massive part of the family but, it's all fun and games until they use your Carpet as a litter tray.
Especially if they are puppies and kittens, they can have minor accidents, and we forgive them so quickly as we start to fall in love with them.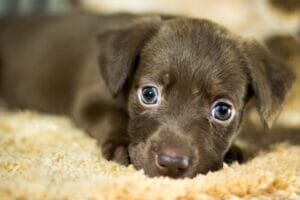 Removing a pet urine stain and smell can be tricky, especially if it has not been spotted quick enough and has seeped through the fibres of the Carpet into the backing or even through to the floorboards.
Steps you can make to remove the smell.
The first thing you should do is dab up (not wipe) the urine as much as you can using a clean white cloth as quickly as possible; the longer you leave it, the further it will soak into the carpet fibres.
Make a small amount of one part vinegar and one part water. Mix them together in a container. Then, pour the vinegar and water mixture over the affected area on the Carpet or Rug. Very lightly scrub it and let the area dry completely.
To get rid of the pet waste smell, apply baking soda to the spot, let it deodorize the area for 24 hours, and use water to rinse away. Then give the site a good vacuum or take your rug out and give it a good shake and then a good vacuum, this will remove any remaining residue.
If the smell remains, this is very common for older urine smells and cat urine; it is always recommended to use a professional carpet cleaner to come out and inspect the area. They will then quote you a price to spot clean the area. Please always be aware that it's not always guaranteed the smell will be removed completely.
So what is the answer?
So, the answer is to make sure you keep well stocked up with wine vinegar and baking soda in your cupboards if you have new puppies and kittens, especially. Failing this, don't forget the professionals can help to improve the area.
For further advice or information on our Carpet and Soft Furnishing care, please do not hesitate to contact the Art of Clean team on 01223 901547 in Cambridge.
Our services include Carpet Cleaning, Upholstery Cleaning, oriental and area Rug Cleaning, Curtain Cleaning, Patio, Driveway Pressure washing, Leather Cleaning, Stone and Tile Floor Cleaning, and Wood Floor Sanding and Restoration.
We also supply new flooring and carpets through our sister company Art of Flooring. Farthings Cambridge provides our Dry-Cleaning service.