We sand the kitchen worktop or table top-down using high-quality machinery and then treat it with the Treatex oil.
When choosing your kitchen every single little detail is important, "do I go for grey cabinets or white?". "Do I have silver or black detailing?". "Splashback or not?" It's so much to think about and can be very time-consuming.
A real wood Kitchen worktop looks beautiful and really finish the look but can start to look a bit grubby and stained after a while and completely change the look of your kitchen when it starts to look like this.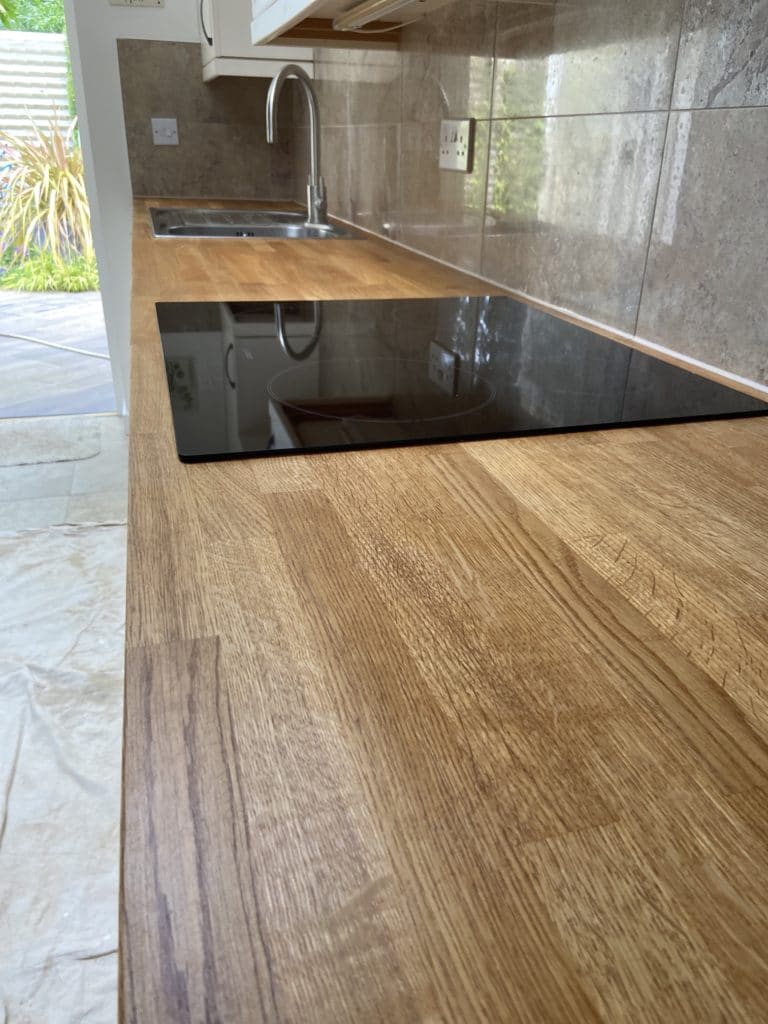 You almost start to feel embarrassed and start covering it with chopping boards or other items to disguise any marks and stains.
So many of you who have a wooden kitchen worktop or a real wood dining table are unaware that you can get this restored, so they are looking like new again.
We can't always guarantee that we can altogether remove all the stains or watermarks on the worktop this will depend on the condition of the worktop, but we will always get the best results we can for you.
This need to be done every couple of years or you run the risk of causing permanent damage to the surface of the kitchen worktop if moisture and oils soak into the wood.
The result is hard-wearing and gives a beautiful finish. A lot of our clients ask if it is safe for food preparation areas. It can be used on kitchen worktops or any food preparation areas, including your dining table, and it is entirely food safe.
What we use to treat the worktop and is it safe?
Treatex Hardwax Oil Ultra is based on the formulation of sustainable raw materials that include Beeswax, Carnauba wax, Candelilla wax, Linseed oil, Sunflower oil, Jojoba oil. It contains no biocides or preservatives. Very reassuring when deciding if to have your worktops restored.
You also might find the articles below helpful:
For further advice or information on our Carpet and Soft Furnishing care, please do not hesitate to contact the Art of Clean team on 01223 901547 in Cambridge. Our services include Carpet Cleaning, Upholstery Cleaning, oriental and area Rug Cleaning, Curtain Cleaning, Patio, and Driveway Pressure washing, Leather Cleaning, Stone and Tile Floor Cleaning, and Wood Floor Sanding and Restoration.
We also supply new flooring and carpets through our sister company Art of Flooring. Our Dry-Cleaning service is provided by Farthings Cambridge.