Choosing the best floor cleaning or floor restoration company can take some time and research. It is important to find the best company that will not only take care of your flooring but take care of you and your feelings while causing you as little inconvenience as possible and that gives great advice.
Flooring in your home can be quite pricy, so it is so important to take good care of it, this will prevent problems or damage sooner than later.
Here are a few important things you should consider when choosing a floor cleaning or restoration company:
GEARS
Ask the company about their GEARS. Art of clean use a customer-based approach, we always ask the correct questions so we can give you our customers the most outstanding service we can. We pride ourselves on using the Gears system.
Guarantee – We give every client a 100% money-back guarantee – and here is how it works. In the unlikely event that you are not totally thrilled with the service experience we provided, we will rush back to your location at no charge and no obligation. If you are still not satisfied, we will issue a refund. You see the thing is – We would like to secure your business not just once, but we wish to serve you for many years to come.
Education – When choosing the best company for the service you require Ensure you ask about their education. We are certified by the IICRC the world's most recognised body for certification in our industry. We are also Senior members of the NCCA and on top of this our team also attend regular training events.
Achievements – Our client list includes many householders just like you, as well as institutions such as Norwich Cathedral, The University of Cambridge, Bury St Edmunds Cathedral, and the British Racing School in Newmarket name but a few. Pierre and Laurence are very well known in the industry. Art of Clean has hosted many training schools on Flooring and soft furnishing care. You will see many of our online content is widely shared.
Reputation – We are familiar with the most unusual soiling conditions and experienced in all types of flooring and furnishings. Choosing a company that gets regular referrals to say a lot about them. Art of Clean gets referred by many local reputable Flooring and furnishing Retailers, Interior Designers, and Estate agents. We have been asked to help on projects well after many others have failed.
Systems – Choosing a company just because they have the biggest or best machine can be dangerous and here is why. They must know how to operate the machines correctly and regular maintenance will be essential. We use the most advanced state of the art equipment and techniques which gives the best result possible. Here at Art of Clean, we have a strict maintenance regime to ensure the equipment we use are always performing as it should. Our technicians are all fully trained on the correct use of our equipment.
Keeping a good relationship with our suppliers
Why is a strong relationship between a floor restoration company and its suppliers vital to give you a restored or refinished wood floor that will serve you and your family and help the floor last many years longer 
Let's face it – in the 21st century and more so in the last 10 years, we grew accustomed to the abundance of choice. It shows on our Netflix home screen, it shows in our amazon account, it shows wherever you look I would go as far as saying – the number of choices we have these days has rather become a hindrance than some help
Just look at what a throwaway society we became – If you do not like the furniture – you can just throw it away – Though – We love Emmaus – the Local Homeless charity – Rather donate it to them – they are based on the A10 on the way to Ely just past Waterbeach – and about 3 miles from where we are in Chittering.
Now how does all this choice help or hinder a floor sanding firm?
With so much choice also available to a floor sanding and restoration professional comes the freedom to try out various products and mix and match products sometimes – A bit or Treatex on this job – Oh a bit of Bona Traffic on that – How about some Osmo on that floor and why not some Ciranova here – It has been a while since I used that last.
This result in a floor sanding professional having several connections with suppliers. This will be spread far and wide.
What would happen if a floor restoration professional suddenly gets a result on a floor from a product he does not use very often? Well, he can call the supplier and perhaps they may be happy to listen.
Would they look at how much he or she is worth to them as a client they may see a very sporadic purchasing pattern. This can, in some cases result in brushing the problem off and let the floor sanding contractor work a solution out for themselves.
Now consider if you employ a wood floor sanding professional that keep their eggs in one or 2 baskets. They spend a substantial amount of money with a manufacturer or supplier of a very few select brands.
If something crops up the manufacturer get a call that something did not go to plan, they will do a lot to support their client (the floor sanding contractor) as they will value his business – In turn this benefits the homeowner or end-user of the service as their floors will get preferential treatment.
Some floor sanding products and machine manufacturers have programs to encourage loyalty and the sanding contractors benefit from outstanding support and training.
 One such program is Pallmann's Parkett Profi program – see more here – https://uk.pallmann.net/service/parkettprofi 
By committing to the rules of the program the floor sanding contractor benefits from ongoing training and support.
Warranty on the work they carry out (if the floors meet set pre-qualifying criteria)
If you then consider that a floor restoration contractor that is closely affiliated to a set supplier now has the obligation to keep you – the homeowner happy and provide a great service AND on top of this the contractor must work by the rules of the supplier so they can keep being part of their support and programs like Pallmann Parkett Profi or Pallmann Centres of excellence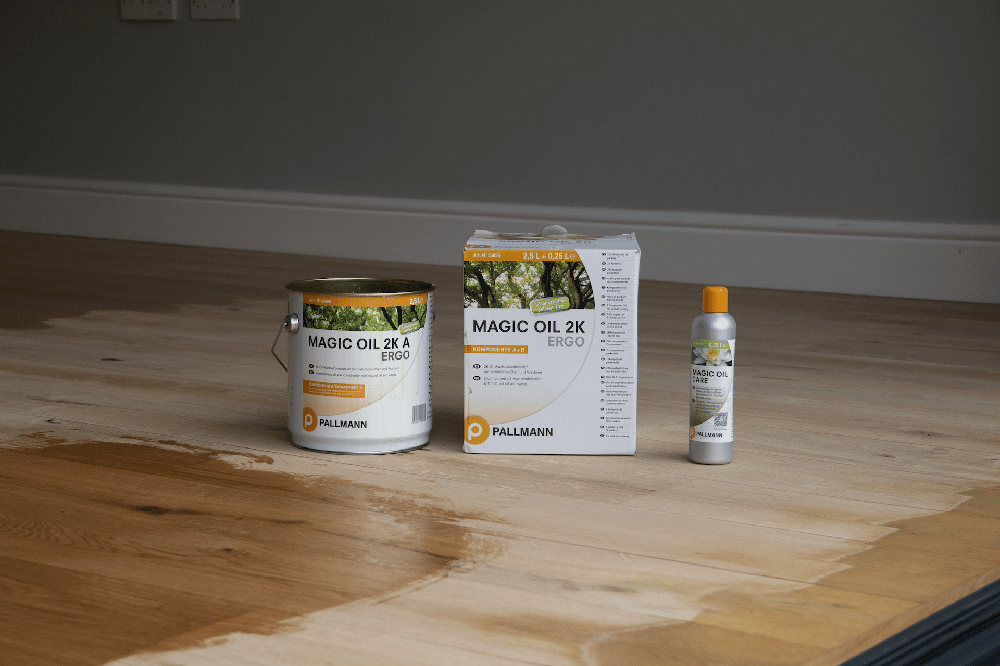 A major factor in achieving a reliable and long-lasting protective finish on any refinished wood floor is to use products that are 100% compatible and certified to be compatible.  
With so many changes in products and techniques to apply the products, regular training helps floor sanding pros to remain at the forefront of developments.
Next time you consider having your wood floor restored – Consider if your contractor has a loyal relationship with his manufacturers and suppliers – if anything does not go to plan – will you have support from the manufacturer?
Avoid lower-priced companies
It is easy to just go for the cheapest quote you get but be warned you get what you pay for. Lots of floor cleaning or restoration companies will not have the correct equipment and use cheap products.
Some companies will just be using a shop-bought portable for the carpet cleaning, these will leave the solution in your Carpet where it has not been rinsed properly and makes the carpet sticky to touch, the carpet then becomes dirtier much quicker.
We get clients to say they used this type of service and then 3 months later come back to us because they made a mistake.
If the incorrect products are used this can also be damaging to your flooring and possibly not safe for your family and Pets, so bear this in mind.
If a company can give you a price without asking for details about the flooring or needing to do a site/home visit, this should ring alarm bells.
Always asks what is included in the price that you have been given. Some companies tend to give you a lower price than when they come to do the work, they add things on as they go. Always read reviews about the company and always base the decision on what company you use on quality, not quantity!
For further advice or information on our Carpet and Soft Furnishing care, please do not hesitate to contact the Art of Clean team on 01223 863632 in Cambridge. Our services include Carpet Cleaning, Upholstery Cleaning, oriental and area Rug Cleaning, Curtain Cleaning, Patio and Driveway Pressure washing, Leather Cleaning, Stone and Tile Floor Cleaning and Wood Floor Sanding and Restoration. We also supply new flooring and carpets through our sister company Art of Flooring. Our Dry-Cleaning service is provided by Farthings Cambridge.