Your carpets can be home to many different pests, fleas being the main ones, especially if you are a pet owner.
Using the pest control companies can be very effective with removing the (what feels like) mini-Olympic jumping champions. Still, they rely on using very harsh chemicals and can be very harmful to your pets or even your family.
A professional Carpet Clean is much less harmful and is much less invasive to you and your family's health. A thorough clean using a heavy-duty truck mount machine by a professional can extinguish adult fleas as well as the flea's faeces and most of the eggs from your Carpet. This method is also suitable as the steam can get under the floorboards.
The main problem the professional carpet cleaner will come across is removing the fleas Larva and eggs during Carpet cleaning, they are so tiny, and some eggs cling so tightly to the fibres of your Carpet. This makes it challenging to guarantee every single egg can be removed, so it is not 100% effective but is far less harmful.
Using a professional cleaner is the best option if you want to avoid the chemicals in your home. You will also have a lovely clean, fresh carpet that looks new, which is a bonus.
How do Fleas get in my Carpet?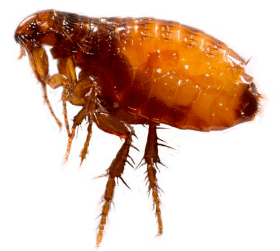 Fleas are not generally attracted to the house; however, fleas will bite humans! Fleas typically make their way into the house via your pets. When inside, fleas making a home on your pets may decide to branch out into the home, and carpets are considered perfect spots to deposit their lovely little eggs.
When the flea eggs hatch in your Carpet, an endless amount of fleas will multiply right inside your home, with you and your pets providing the food for an entire colony of fleas. It would be best to treat the flea infestation as soon as you notice them because the longer the infestation remains, the more difficult it will become to remove them.
It is important to remember that shampooing of the Carpet will not remove the fleas from pet bedding and other areas around the home, including behind furniture, where fleas may be lurking. You will have to thoroughly wash and dry pet bedding and treat the hard-to-reach places where fleas can congregate.
You might also find the following articles helpful:
Does carpet cleaning remove pollen bacteria dust mites and outdoor pollution?
For further advice or information on our Carpet and Soft Furnishing care, please do not hesitate to contact the Art of Clean team on 01223 901547 in Cambridge.
Our services include Carpet Cleaning, Upholstery Cleaning, oriental and area Rug Cleaning, Curtain Cleaning, Patio, and Driveway Pressure washing, Leather Cleaning, Stone and Tile Floor Cleaning, and Wood Floor Sanding and Restoration.
We also supply new flooring and carpets through our sister company Art of Flooring. Our Dry-Cleaning service is provided by Farthings Cambridge.