When cleaning your Slate floors, it must be done with care and can be a big job. But once it has been cleaned and sealed correctly, it can make a fundamental difference to the look of your home.
Art of Clean recently done a slate floor in a clients Kitchen, and they were so happy with the results they left the most fantastic review on Google…
"Art of clean professionally cleaned my kitchen stone tiles using appropriate machinery and drying equipment, bringing them back to a new look.
It certainly saved me from having to replace the stone tile flooring.
 The appointment was easy to book with knowledgeable replies to my questions and concerns, and they arrived on time.
 Their website is very informative, and I would undoubtedly recommend Art of clean company to anyone and my friends."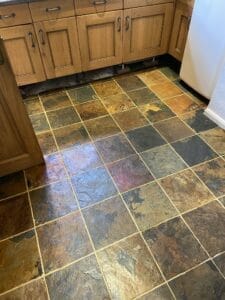 How our cleaning process works
First, Art of Clean will inspect the floor for any marks and any loose grout and remove any loose debris before starting the clean.

We always protect your walls and furniture by covering them in a plastic sheet, stopping any overspray onto the units.

We will use a water-based cleaning solution to remove any dirt then we will apply the solution using a sprayer.

Rinse the dirt from the floor using our pressurised cleaning equipment; sometimes, this will be repeated if needed for best results.

After the cleaning process has taken place, we will clean up and dry any damp areas. Sometimes with tiles that have high porosity, drying can take up to 12 hours.
We will then use a sealer to enhance the natural colours on the slate floor. 
Application of a top-quality impregnator to the floor is crucial as it dramatically reduces the tile's porosity. 
The impregnator penetrates below the tile and grout surface and acts as a repellent for any liquid based spills. This allows the tile to breathe.
You might also find the blog below helpful:
For further advice or information on our Carpet and Soft Furnishing care, please do not hesitate to contact the Art of Clean team on 01223 901547 in Cambridge.
Our services include Carpet Cleaning, Upholstery Cleaning, oriental and area Rug Cleaning, Curtain Cleaning, Patio, Leather Cleaning, Stone and Tile Floor Cleaning, and Wood Floor Sanding 
We also supply new flooring and carpets through our sister company Art of Flooring. Farthings Cambridge provides our Dry-Cleaning service.