There is nothing pleasant about getting carpets and furnishings cleaned once you are ready to vacate a rental home. It is heart-breaking to spend money on a service that you will not benefit from. Over the years, we have heard so many views and opinions that we thought we need to write this piece to help you out.
Some requests we had:
Can you just clean the spots?

Can you just give me an invoice – no need to clean it?

No My do never goes upstairs – Those marks have been there before!

You want how much for the carpet cleaning?
We have also had many distraught clients on the phone that have to get carpets clean again after the first cheaper firm did not deliver an excellent service.
What steps to take to ensure you get what you need on End of Tenancy Cleaning.
Start by understanding what level of service you may need and what your landlord or letting agent may require.
A deep clean and sanitise after you had pets in the home.

A standard light once over clean.

You may need to get a full service deep clean and re-application of 

Stain Protector.
In some cases, a carpet cleaner may not even be required?
Another consideration is the current state of the carpets. If the flooring is in bad condition, your landlord may choose to replace the carpets once you vacate the property – Speak to your agent or landlord. In some cases, landlords may impose a small charge to you and use the money towards carpet replacement – This can be much cheaper than getting the carpets cleaned. This can be a rare occasion but always work investigating. There is nothing more heartbreaking than to see a tenant spend money on cleaning carpets, and then those carpets end up in a skip.
The above also applies to Upholstery cleaning – in the case of furnished properties.
So – now you know what level of cleaning is required – You also know that you will not waste money on cleaning – in case the carpets or furnishings will get replaced.
You can now start looking for a firm.
A good place to go would be The National; Carpet Cleaners Association Website to find local firms – https://ncca.co.uk/
Choose the firms that meet your requirements and look at their reviews – The best place to see reviews is on Google – Simply type their company name into google search, and you will see a listing appear on the right-hand side of the page.
It will look like this: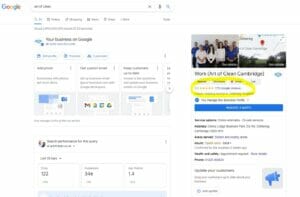 Some firms will inevitably be very cheap as their service may not include all the steps and advanced equipment, other firms that are more expensive may offer.
It would be essential to mention if the property will be empty of furniture OR if it may be furnished.
Here at Art of Clean Cambridge, our End of Tenancy Carpet Cleaning Service is discounted for empty un-furnished properties. Look out for firms that offer an extreme basic clean with add on costs for extras
It is best to choose a firm that offers a total price for the best clean possible – That is what we offer every client we work for. You still get the very best Machines to do a deep clean – You get our very best friendly technicians – You get outstanding support from our excellent office team – An this is enhanced by the great technology to make your service experience as smooth as it can be.
Some Thing to Watch Out for:
Drying – In some cases, cleaning is carried out, and the home is closed. The moisture has nowhere to go. It is best to allow a little airflow to ensure the carpets and furnishings have the best chance to dry well. We do use air movers, but in some cases, the carpets would not be totally dry at the end. In this case, we would advise leaving windows on the first latch to allow airflow overnight and open them up for 15 – 30 minutes the following day.

What is that smell? It is possible that the carpets did not get cleaned after the last tenant and their pets moved out. If pet accidents do not get treated they can hide in the Carpet and as soon as the Carpet gets cleaned an unusual bad doggy smell can appear, and in some rare cases this does not go until the Carpet is totally dry – in rare cases, we have seen the smell hang around for several weeks. We can resolve an odour smell in most cases, but we have had 2 or 3 instances over the past 15 years where we had to advise for the carpets to be replaced. If you have a suspicion of old pet stains or accidents – mention it to the firm that will clean the carpets and to your agent or landlord before you get the carpets cleaned.

Damp Carpets e-soil very fast. Move all items out before you get the 

carpet cleaners

 in. Walking over damp carpets that have just been cleaned will make them dirty very quick. Our best advice would be to get the carpets cleaned LAST.

But the stains are still there!! – No carpet cleaner will guarantee stain removal. If you have any bad stains, discuss them with your agent or landlord before the carpet cleaner does the cleaning. In some cases, a stain on an old carpet may cost you a small financial contribution to the landlord to go towards a carpet replacement.

DIY stain removal. DIY stain removal can leave a soapy residue in the Carpet that can, in some cases, be impossible to remove. These marks can either show up as lighter patches – usually caused by cleaning agents that bleach the carpet fibres OR it can turn dark after a while and that is due to a soapy residue that attracts soiling.
You might find our other blogs below on Carpet Cleaning helpful:
What do I get for the cost of using a professional Carpet Cleaner?
Art of Clean is a specialist flooring and soft furnishing cleaning firm in Cambridge working for domestic or commercial clients throughout Cambridgeshire, Essex, Suffolk, and Hertfordshire. For further advice or information on our carpet and soft furnishing care please don't hesitate to contact the Art of Clean team on 01223 863632 in Cambridge. Our services include Carpet Cleaning, Upholstery Cleaning, fine Rug Cleaning, Curtain Cleaning, Patio and Driveway Pressure washing, Leather Cleaning, Stone and Tile Floor Cleaning and Wood Floor Sanding and Restoration.
We also supply new flooring and carpets through our sister company Art of Flooring. Our Dry Cleaning service is provided by Farthings Cambridge