Art of Clean has put our heads together and tried to think of a way to give back to our lovely clients and the community.
One idea was to reward some of our local heroes because, let's face it, we all know a local hero, especially after the last couple of years.
Someone who has done a selfless act to help the community at such a tough time, but how will we find our local heroes?
We asked our lovely client list, we emailed them and asked them to nominate someone that has touched them somehow in the last couple of years, and we will randomly select them and surprise them with a gift before Christmas. Let's meet our local heroes.
Harvest Mill Road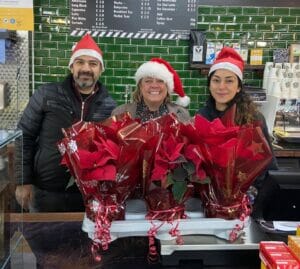 Cambridge fruit company
Hilary Duncan nominated this company, and she said:
I think Neil from Cambridge fruit company deserves to win it! He does so much. He's been donating Fresh fruit & veg to struggling families in Cambridge along with Red Hen. He's also persuaded his customers to donate even more at Christmas – turkey & all! & he's such a nice guy!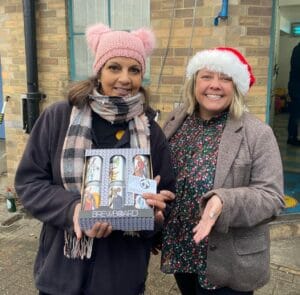 We sometimes take for granted how lucky we are and how something like food and heating can be forgotten when we have it every day. Fantastic work from Neil and the Cambridge Fruit Company.
Claudius Hempstead 
A Bridget Halnan nominated him, and let's see what she had to say:
He recently sorted out a stick radiator valve and asked me to donate to Winter comfort instead of charging me. Indeed an unselfish act.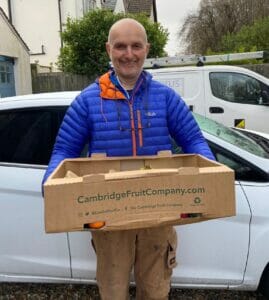 Kathy Attmore
A Kathy Attmore nominated this wonderful lady, and she said:
We would nominate Kathy Attmore, who has run Fulbourn's Library, staffed entirely by volunteers, about fifteen years ago since its inception. During that time, she has had to adapt to the need to keep everyone healthy since the beginning of the coronavirus threat. She has organised open-air book sales and, whenever possible, opened the library with due attention to wearing masks, hand cleaning, social distancing, etc. She is always pleasant, thoughtful, and helpful and an excellent example of effective but unobtrusive leadership.
Farthings Dry Cleaners Newmarket
A lovely lady called Margaret Levin nominated Farthings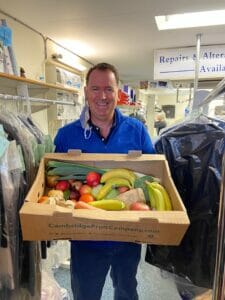 They always go above and beyond to help their customers and never miss a due date—such fab work from these guys and gals.
Rhianna Dean
And we can't forget our amazing NHS staff working round the clock, keeping us all safe. This special lady was nominated by her lovely neighbours, and this is what they had to say:
My nominee is my neighbour, Rhianna Dean. She is an intensive care nurse at Addenbrooke's, and as you can imagine, she's been somewhat busy this past year+. Despite that, she's also kept an eye on my wife and me, both of whom have MS. Not quite a busman's holiday, but not far off.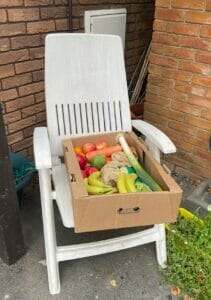 Unfortunately, Rhianna was not at home, so we could not meet her in person, but we left a lovely treat for her when she came home after a hard day.
This one hit home for me as my Grandad spent over seven weeks in intensive care, and the nurses were amazing. We got to spend an extra two years with him because of the doctors and nurses, so I am truly grateful for one.
Some truly remarkable and well-deserved humans, I am sure you agree.
We also decided to do a couple of fun things on our Facebook page and our newsletter that we send out to all our regular clients to reward them for sticking with us through some tough times. We appreciate your loyalty.
We popped a Word search on the back of our Nov/Dec Newsletter. If you completed the Word search and sent a screenshot or it back in the post, we will randomly select a winner and hand-deliver the Fruit and veg box prize just in time for Christmas.
Let's meet our winner:
Mrs chambers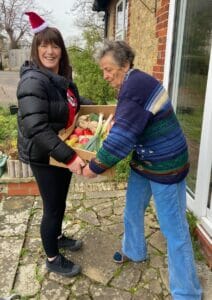 We also asked our Facebook customers to send their questions to us at Art of Clean. We then selected two winners at random, and they will win a prize:
Sara Garnham was the winner of the Sebo vacuum, and Rebecca Featherstone was the winner of a gorgeous brand-new Rug. Well done, ladies; your questions are so vital to us and they really help us help others that have the same flooring questions.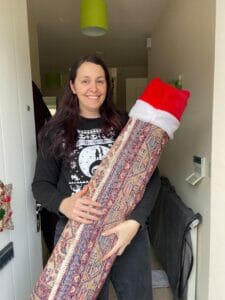 Please keep them coming. Pierre, our director, will be only too happy to send you a video answering the questions.
For further advice or information on our Carpet and Soft Furnishing care, please do not hesitate to contact the Art of Clean team on 01223 901547 in Cambridge.
Our services include Carpet Cleaning, Upholstery Cleaning, oriental and area Rug Cleaning, Curtain Cleaning, Patio, Driveway Pressure washing, Leather Cleaning, Stone and Tile Floor Cleaning, and Wood Floor Sanding and Restoration.
Art of Clean supplies new flooring and carpets through our sister company Art of Flooring. Farthings Cambridge provides our Dry-Cleaning service.