It's been a lovely week so far. I hope you're all having a good one?
I decided the best way to help with this task is to educate us on how a professional would do it, and hopefully, this will allow us to do what we can at home.
Our ten steps process to the cleanest rug in Cambridge:
(Now, not all these steps we would need to do at home, so I will try and bold out the parts of the steps we may need to worry about.)
Step 1 – Rug Pre-Wash Inspection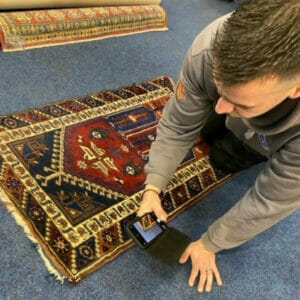 All rugs are checked for pre-existing conditions at our cleaning plant in Cambridge.
They will check for any damage, fibre staining, prior dye bleeding, worn down areas or white knots that can show after a previous wash. 
The dyes of your rug will be tested to ensure it is colourfast.
If the rug isn't colourfast, they will prepare it by setting the dyes first.
This pre-wash step allows the team to choose the suitable cleaning method for your rug. 
They do this to determine how stable the dye has been used on your rug.
A mordant process is usually used to dye the fibres, a chemical reaction that helps bind the dye to the threads. 
One unstable colour can ruin an entire rug, so you shouldn't miss this step. We don't want tears over your precious rug. 
Step 3 – Rug dusting with three different systems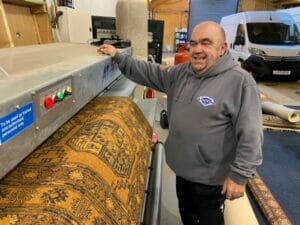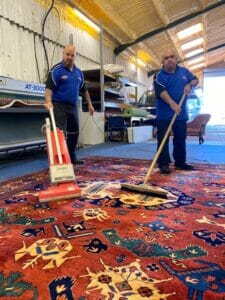 Firstly, did you know that a rug can hold a lot of dirt before noticing it?
Yes, it can hold over a pound's worth of dirt per square foot and not look dirty. Isn't that a scary thought!
They dust the rug as that amount of dirt and grit in a rug can soon become mud, and once wet, a lot harder to get off. 
They will hoover the rug with a commercial vacuum.

Then the team will use a big vibrating machine to beat the rug to loosen the deep dirt gently. 

Air dusting removes the dirt from older rugs that may be more fragile so that no damage occurs. 
This step is where they apply a carpet pre-spray. 
The spray is designed to electro-mechanically lift oil dirt and pollution from your rug fibres and leave them floating in an aqueous solution, ready to be quickly lifted from your rug using a state-of-the-art extraction machine. 
Step 5 – Rug decontamination bath
The decontamination bath is the only way to reduce any odours on your rug or illuminate any insect infestations you may have. 
Note to us all: Some rugs, especially ones with a latex backing, odours may be harder to remove. 
Once washed, a clear water rinse is essential to achieve a thoroughly clean rug. 
The rinse ensures any residue isn't left behind. If any residue is still on the rug, it will mean it needs cleaning sooner as dirt sticks to the residue.
Step 7 – Rug Centrifuge Extraction System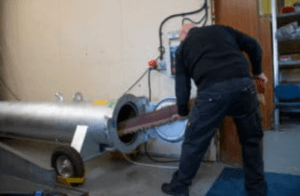 This nifty little machine means drying is ten times faster than any other drying method. 
This drying method eliminates any chance of mould growth, colour run and any other issues that a sopping wet rug can cause. Without it, it could take weeks to dry your rug. 
We apply the rug protector to provide a barrier against re-soiling and staining. 
The rug protector will allow you to mop spillages up as it should prevent the rug from absorbing the liquid. 
We will groom with a grooming rake to ensure we try and leave the rug in the best condition possible.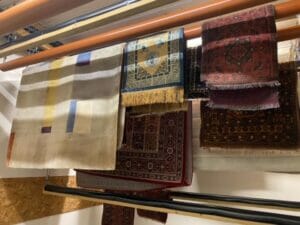 We will now hang your rug in our room, especially for drying the rugs. 
We have an air-moving machine and dehumidifier in the room without heat to prevent shrinking. 
The first wash can often shrink the rug slightly, even if you use no heat as we do. It's not ordinarily noticeable, less than an inch if it does happen. 
Step 10 – Rug fringe and rug finishing time.
We will look at the Fringe and may have to re-wash and dry on rare occasions. 
The rug will be given a final groom and then wrapped to ensure it stays clean during transit. We will then deliver it back to you after arranging a convenient time. 
So, there you go. That is the way the fantastic team at Art of Clean will clean your rug. 
We don't have machines at home to help with the cleaning process, but the bolded parts are the parts we can do, should you wish to try. 
For further advice or information on our Carpet and Soft Furnishing care, please do not hesitate to contact the Art of Clean team on 01223 901551 in Cambridge. Our services include Carpet Cleaning, Upholstery Cleaning, oriental and area Rug Cleaning, Curtain Cleaning, Patio, and Driveway Pressure washing, Leather Cleaning, Stone and Tile Floor Cleaning, and Wood Floor Sanding and Restoration. We also supply new flooring and carpets through our sister company Art of Flooring. Our Dry-Cleaning service is provided by Farthings Cambridge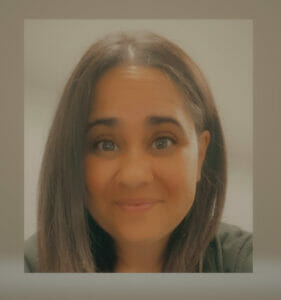 Written by Tracey Gilbey, Marketing and Admin Coordinator at Art of Clean.
Now that you have cleaned your rug, read this article to help it last longer: